Voted Best Cabin by Our Guests
Best cabin for rent - that's why folks keep coming back. Here are just a few of the rave reviews we've had from groups of friends, family reunions, church groups, romance seeking couples, atv enthusiasts, hunters, anglers, and just about everybody who comes here for a quiet week-end or a rowdy adventure.
The Best Cabins on the Buffalo River
Dale from Russellville, AR says:
"I have been fortunate enough to come to the Buffalo River for the past 18 years. We have stayed in many different cabins over the years all over the Buffalo River area. Five years ago, we come across Bear Creek Cabins.
Words cannot describe the beauty of this area as well as the charm of the cabins.
Needless to say, we have not stayed anywhere else since we found Bear Creek Cabins. If you are looking for a wonderful experiece, a beautiful view, and a relaxing get a way, let me strongly encourage you to give Libby a call. You will be glad you did!!!"
Mike, from Aubrey TX
"Great stay in
great accommodations with great views.
This was our second stay at Conner Cabin and it was every bit as enjoyable as the first. The cabin is
secluded and quiet
, perched high on a hill overlooking the the farm homestead. The topography is stunning, with pastured valleys and hills and wooded ridges. On the last day saw part of the local
elk herd in the valley
. The cabin itself is
comfortably furnished
with room for 12 guests.
The Buffalo River National Waterway is just a short distance down the road. There are several places to rent canoes/kayaks to spend the day on the river. In good weather, it is a remarkably beautiful float trip.
On the Conner property itself, Bear Creek bisects the valley and provides an excellent opportunity to fish for smallmouth bass and trout. The creek has a series of pools, rapids, and riffles that are very pleasant to walk along and fish.
Our entire family enjoyed our time here and look forward to returning again in the future.
Beautiful Cabins, Kept SO Clean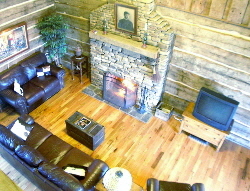 Andy and Debra, Star City AR
Our first visit to Bear Creek Log Cabins was for Valentines Day and my husband and I stayed in the Turney Homestead. There was a little snow on the ground and we had a fire in the fireplace. Couldn't have asked for anything better!!! We had the most relaxing, peaceful, and of course romantic time.
We decided to come back the next summer and bring the whole family to the best cabin resort in Arkansas.
We then stayed in the Ferguson Cabin. And we also had family staying in the the Turney and the Conner. We all brought 4-wheelers and had the greatest time. The cabins are all beautiful and kept so clean. The views are spectacular. We would spend the day at the creek or going to the Buffalo. We even went to Mt. View and enjoyed some shopping. We would get together at one cabin every evening and cook out and enjoy the beautiful sunset!!! We made alot of great memories. One in particular is when we all went for a ride one night and at the top of a hill we all stopped and turned off the 4-wheelers, the sky was so clear and full of stars it was mesmerizing!!! We sat and talked and took in the beauty of it all!!! Awesome family time!!! We have a trip planned this summer to stay in the Ferguson Cabin again. Bringing the grandchild for her first visit!! We can't wait!! This is definately going to be a family tradition!!


Best Cabin Location for Whole Family
Judy Lindsey, Batesville AR
We have stayed at 2 of the cabins with our large family. We rode 4 wheelers, hiked, built a campfire, enjoyed the view, and relaxed. Our whole family loves this place. I would recommend it to any one. We all enjoy it so much that one of my sisters brings her husband's family up there and so does another they both love it and want to share it with their in-laws. I can't wait to come back we love it, thanks so much for sharing sure a beautiful place.
From Best Cabin Reiviews
HOME
to Buffalo River Log Cabins.net