Bear Creek Log Cabins
Arkansas Family Vacation
Plan Your Best One Ever
Arkansas' best family vacation spot is Bear Creek Log Cabins, just four minutes South of Buffalo National River Park on Hwy 65. Your complete outdoor adventure family retreat center.
Children love hiking and hunting arrowheads on their own, while their parents just relax and enjoy the cool mountain scenery.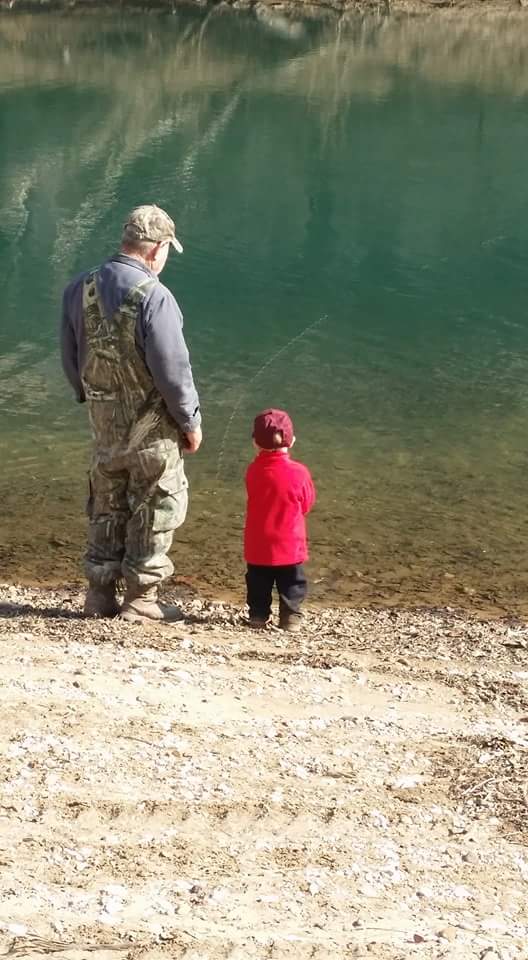 Fishing
on beautiful Bear Creek is
available at NO CHARGE.
"The kids really enjoyed catching lots of fish in the creek and riding four-wheelers.Our trip was even more enjoyable because of your friendly hospitality..." 
The Toups & Watts families, Gonzales LA
Valid Arkansas Game and Fish License Required before fishing Bear Creek but not in the stocked ponds.


Private Roads for Hiking/Cycling/ATV Trails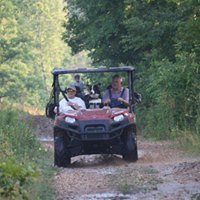 Our PRIVATE farm roads offer kid-friendly: Nature Walks
ATV Trails
Hiking Trails Nature Photography Trails
Mountain Bike Riding Trails
Happy Walking Trails
Running Trails
Bird Watching and Wildlife Viewing Trails
Four-Wheeling Roads
and more
Folks who just like to wander and roam, enjoy finding their own way around our fields, creek banks, mountains, and woods.
"The boys have had a great time 4 wheeler riding, hunting tadpoles and arrowheads, skinnying dipping in the creek, and just being able to roam..."
the McDonald family & friends, Corning AR
CONTACT US about a log cabin rental for your next Arkansas family vacation.

More Outdoor Family Vacation Fun
Canoeing
Canoeing on beautiful Bear Creek is available at NO CHARGE.
Canoeing Outfitters are less than 5 minutes away where you can rent canoes and shuttles for canoeing on the Buffalo National River
Swimming
Cool off with a swim in our year round creek. Or watch the turtles and small mouth bass or "brownies" swimming in Sally Hole, just upstream from the Buffalo National River. It's so private and secluded here, the kids and grandkids can do some good old-fashioned skinny-dippin' or just sunbathe on the beautiful rocks.
Rafting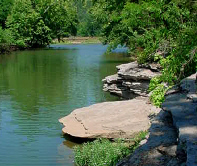 Rafting Outfitters are less than 5 minutes away where you can rent rafts and shuttle service for rafting down the Buffalo River within the Buffalo National River National Park during certain times of the year. 
Private walking, hiking, photography walks, bird watching trips and nature hikes are natural pleasures for children and adults all around our cabins and along Bear Creek.
More serious hikers will enjoy the world famous Ozark Highlands Trail. Four beautiful access points to this scenic Ozarks hiking trail are close by.
Buffalo River National Park's Tyler Bend Visitor Center is just a few minutes away. Many easy public hiking trails and picnic areas are available there.
Nearby Horseback Trails
Little Heaven Ranch offers family friendly horseback trailrides and lessons just a short scenic drive from your cabin.
OK Trading Post in Mountain View have lovely trail rides as well.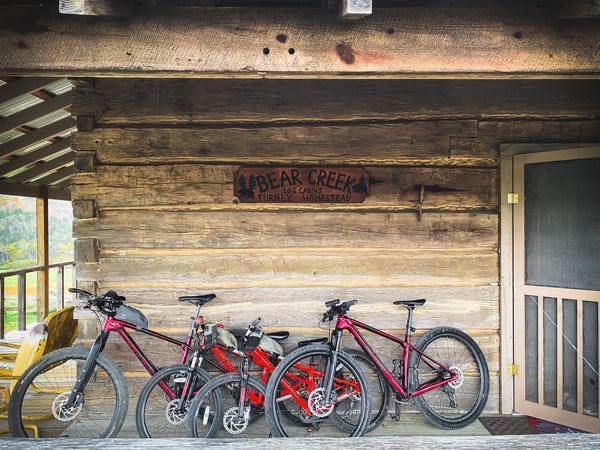 Mountain Biking
Our spectacular wilderness views make mountain bicycle trail riding especially enjoyable in any direction from our cabins. Many mountain bikers get in shape along the first American National River Trail located inside the Buffalo River National Park.
Hunting Arrowheads
As you explore our beautiful buttreses and open areas, you can hunt for arrowheads on your own. The Ozarks bluff dwellers of prehistory left lots of hunting arrow points along Bear Creek that flow into the Buffalo River. You can imagine what it was like to live in an Indian village way back then.
Be sure to bring your four wheelers and Side by Sides! Our private farm and ranch roads are the perfect destination for your kids' atv trail adventures. Our hills and mountains offer incredible views of the Bear Creek Valley, right in the heart of Buffalo River country. (kids under 16 years old should be equipped with helmets!)
Fishing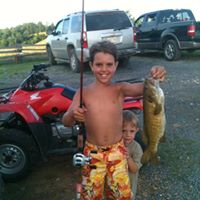 Our Fishing Holes along Bear Creek can't be beat for catching small mouth bass or brownies.
Or you can visit nearby Greers Ferry Lake or Bull Shoals lake for lake fishing.
And don't forget the excitement of trout fishing and more on the White River, just a short drive away.
 Arkansas Game and Fish fishing license required on Bear Creek
Running & Jogging
Our rolling hills are the best exercise running trails you'll find anywhere. So whether you just like to jog every day or you are getting in shape for a cross-country race or a marathon race or even a triathalon race; you can do some excellent training here. Just step outside your cabin and run in a completely safe and private atmosphere.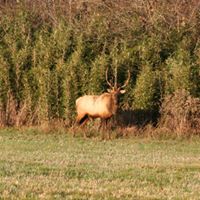 Elk watching, birding, and all kinds of wildlife viewing is available from dawn to dusk for folks who like to get out and take nature walks.
Hunting
Hunting (including primitive sports like bow hunting and blackpowder hunting) on our PRIVATE 1,200 acre farm is available during Arkansas Game and Fish deer hunting and turkey hunting seasons at NO CHARGE.
A valid Arkansas Hunting License is required, along with safe and legal hunting practices are required,  also to dispose of debris, waste, and shells afterward. Arrangements can be made to purchase a gun or archery hunting license for primitive or modern gun hunts prior to your stay online at the AR Game and Fish or at local stores nearby.
Whatever outdoor activities you like to do can be a fun part of your family vacation here at Bear Creek Log Cabins.
From Buffalo River Arkansas Family Vacation
HOME
to Buffalo River Log Cabins