Attractions and Events
Buffalo River Blog 2007-2008
Attractions
Kid ATV Trails Now Open
All our atv 4wheeler trails are open and ready for Spring.
Your kids can enjoy a safe four-wheeling adventure while you relax on your cabin's big screened porch.
Pack up your 4X4 and join us in a private outdoor getaway before hot weather comes to Buffalo River country.
From April 10 to June 15, 2007 your whole family (children, adults, AND pets) gets a FREE night's lodging when you stay a week in any of our spacious cabins. Stay 6 nights with us and get your 7th night completely FREE.
Events
All About Ozark Gardening
Developing an Ozarks Green Thumb
March 10, 2007
Mountain Home, AR
Baxter County Master Gardeners Annual Seminar.
The Ozark Mountains of Northwest Arkansas and Southwest Missouri can be challenging for folks who want to grow healthy vegetables, beautiful flowers, and year-round lawns. The tips these Master Gardeners offer will be especially helpful for folks relocating or retiring to the region.
Guest speakers, horticulture display tables and exhibits, horticultural information geared for ALL ages.
Lunch available on premise.
Hours 8:30 a.m. to 3 p.m.
Registration required by March 3, 2007.
Admission: $10 For more information
Phone:(870)492-5825 OR E-Mail: jimlori@cox-internet.com
Then return to Bear Creek Log Cabins for a good night sleep and a beautiful sunrise from your cabin porch.
Events
Chocolate Festival
Attention Chocolate Lovers!
You'll find: free chocolate SAMPLES
cooking with chocolate CASH PRIZE CONTESTS for professional chocolate cake decorators and amateur chocolate chefs
white chocolate treats
chocolate candy vendors
amazing chocolate fountain demonstration
German coco baking instructions
dark chocolate antioxidant benefits
milk chocolate recipes
semi-sweet chocolate drops
And many more choco-holic DELIGHTS
All on February 10, 2007 in Eureka Springs, AR
just a pleasant scenic drive from Bear Creek Log Cabins
Admission: $12 adults, $6 ages 12 and under.
Call (479) 253-7888
or e-mail tina@clearspringschool.org for more information.
Then CONTACT Libby to stay in our comfortable log cabins while you recuperate from eating all that wonderful chocolate!
Attractions
Ozark Heritage Arts Center
NOW OPEN on their Winter Schedule:
10 a.m. to 2 p.m.
Tuesday - Friday.
408 Oak Street in Leslie, Arkansas
(East of Highway 65 - Highway 66 Junction)
Between Clinton AR and Marshall AR
Call 870-447-2500
e-mail information@ozarkheritagearts.org.
Friday, January 19, at 7 p.m will be the first monthly open-microphone night for 2007. So, come take CENTER STAGE!
It's free to perform and free to attend.
This open-mic nite provides an opportunity for amateur performers, professional entertainers, or anyone who'd like to entertain, gain stage experience or just have a good time.
You are welcome to use the excellent, well-tuned piano on stage or bring your own guitars, banjos, tamborines and other instruments.
Local residents and out-of-state visitors are amazed at the array of talent performing here each month. OHAC is a non-profit organization sharing the cultural, musical and historical heritage of the Ozarks region.
Attractions
Wildest Wildlife Viewing
Travelers are surprised to find one of very few U.S.D.A. licensed shelters for large carnivores in the United States within such a short drive from Bear Creek Log Cabins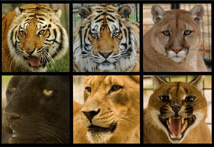 Turpentine Creek Wildlife Refuge
Located seven miles South of
Eureka Springs, Ark
Open From 9:00 AM To 6:00 PM
(5:00 PM During Daylight Savings Time)
Every Day Except Christmas
Call (479) 253-5841 for information
January is a perfect time to visit this animal lover's paradise: Home to over 100 large animals rescued from destruction - including Lions, Tigers, Cougars, Leopards, Bears, Monkeys, Deer and Birds.
Over the winter the sanctuary is less crowded with tourists. Every afternoon brings a rare opportunity to hear lions roaring at feeding time.
Professional and advanced amateur photographers be sure to ask about setting up a "PhotoWild" session to photograph these magnificent Big Cats in a natural setting. All proceeds from the photo shoots will be directly applied to the Fence-A-Thon habitat fund, providing large free-range type habitats for more rescued animals.
Bear Creek Log Cabins is fast becoming a favorite family lodging headquarters for exploring wildlife and the great outdoors throughout North West Arkansas and South West Missouri.
Events
Wild Cave Tours
Explore rarely seen underground wonders in pristine, UNDEVELOPED areas of Blanchard Springs Caverns. These tours are safe for beginning cavers, but still fascinating for experienced spielunkers.
Great caving experience for children over 10 years old accompanied by adults. January and February are perfect for family spielunking adventures since temperatures in the caves stay around 58 degrees Farenheit no matter how cold and windy it may be on the surface.
All cave explorers need to be in good physical condition and prepared to get dirty as you climb and crawl into areas tamer "Tourist Tours" never get to see.
Call 888-757-2246 (toll-free) for information and to make reservations. Reservations are absolutely required. So are long pants and sturdy boots. Don't delay. Tours to the wild portions of Blanchard Springs are not available after March 1.
These world famous caverns are just a pleasant scenic drive from Bear Creek Log Cabins through beautiful Buffalo River country.
Events
Buffalo River Dreams in Harrison AR
Tim Ernst, known as Arkansas' Wilderness Photographer, presents two all new slide shows plus live question/answer dialog with digital photography students and outdoor enthusiasts.
Buffalo River Dreams, a coffee table picture book, and Arkansas' Nature Lover's Guide are both featured in this rare live presentation.
Tim's other books include Ozark Highland Trail Guide, Buffalo River Hiking Trails, Arkansas Hiking Trails, Ouachita Trail Guide, and Arkansas Waterfalls Guidebook.
His photographs have appeared in Sierra Club and Hallmark calendars as well as National Geographic, American Hiker, Outdoors, Backpacker, Outside, and Arkansas Times magazines.
The National Park Service and the Harrison Convention and Visitors Bureau are sponsoring this program at the Lyric Theatre on the square in Harrison. Free Admission Friday, Dec 1, 2006 at 7:30 pm. phone 870-391-3504 or email ozarkartscouncil@alltel.net for more information.
---
Attractions
Pet Friendly Winter Holidays
Bear Creek Log Cabins now accepts well-behaved pets.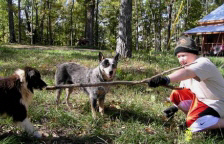 Many families like to take their companion animals with them whenever they travel.
Dogs love the freedom of our wide open spaces. Even senior dogs play like puppies again in the fresh air here.
Cats enjoy all the sights and sounds and smells of the woods, but most don't go adventuring very far from the cabins. They prefer the safety of our big screened porches.
Please let us know when you make your reservation what kind of pet or pets will be traveling with you
So, Check out our low rates and give us a call at 870-448-5926.
New Year's Holiday week-end is filling up fast, so make plans now for your New Year's Eve party or family reunion.
Permalink -- click for full blog post


Events
Giclee Art Exhibit
November 4 - 30, 2006
Ozark Heritage Art Center & Museum
Leslie, Arkansas

Giclee Collector Art Prints by Bill Limbaugh

Numerous original paintings, acrylics, watercolors and other artwork by award winning Illinois artist, Bill Limbaugh are on exhibit in the Art Gallery during the month of November.

The Gallery is open Tues - Saturday from 10 - 4. Admission is FREE.

Housed in an historic stone building constructed by the WPA in 1938, the Center shares the rich historical, musical and cultural heritage of Searcy County and the Ozark Mountains.

Don't miss the chance to see this 1930's era building when you stop by to visit with Bill Limbaugh, noted Artist and Art Director from the Chicago area. Special artist's reception on Saturday, Nov 11 (Veterans' Day) from 2 - 4 pm.

Events
Eureka Springs Digital Film Festival
November 7 - November 12, 2006 The Auditorium and other venues http://www.eurekafilms.org
Showing independent national, international and regional films produced in digital format. Films will be shown all day, all weekend at The Eureka Springs City Auditorium and various venues around town. Admission: Varies
Our log cabin resort is just a pleasant scenic drive from Eureka Springs.
Event at an Ozark Attraction
Blanchard Springs Photography Tour
ATTENTION PHOTOGRAPHERS: Mark November 19, 2006 on your calendar! And call NOW for reservations!
A rare and special opportunity to photograph the wonderful upper level of Blanchard Springs Caverns near Mountain View Arkansas and the Ozark Folk Center.
Tours by reservation ONLY. Tours limited to first ten people who return advance payment. Admission: $20
Tours meet at the Visitor Center at noon and will photograph for four hours. Tripods welcome; not an instructional tour. Light sweater or jacket recommended.
Call (870) 757-2211 or (888) 757-2246 for rates and/or reservations.
Learn about current Attractions on our Buffalo River Blog
---
From Arkansas Attractions
HOME
to Buffalo River Log Cabins