Buffalo River Arkansas
Bear Creek Log Cabin Rental
Our Buffalo River Arkansas log cabin rentals are cozy and Family-Friendly. Affordable fun for romantic week-end getaways and family vacations. Our guests never want to leave.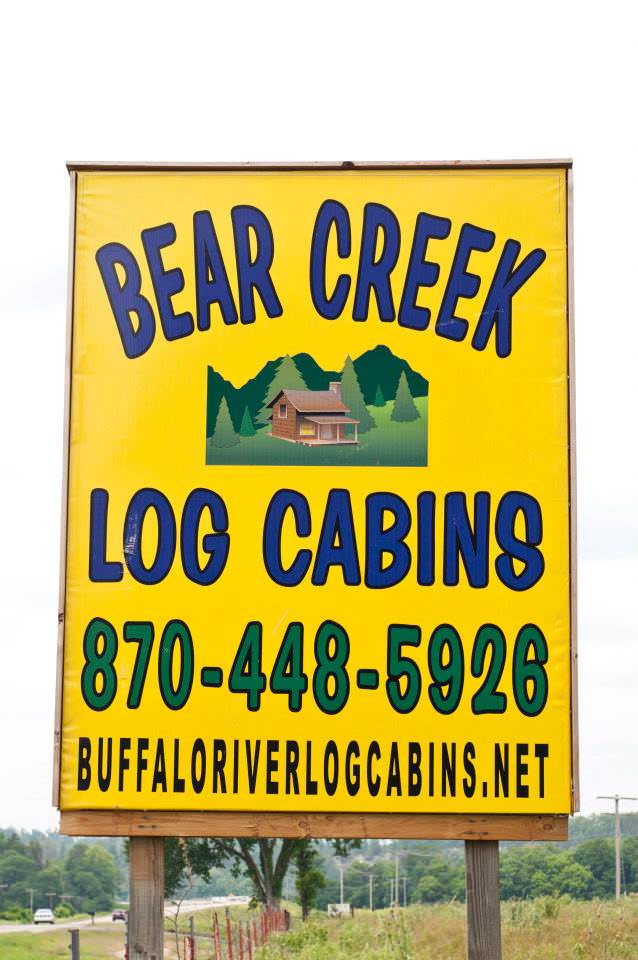 WELCOME
friends to 
Bear Creek Log Cabins,
our family vacation log cabin resort
"This cabin is just wonderful...
We could hardly get our grandsons to leave! Taylor said this was paradise and he wanted to stay forever and ever..."

William and Mary T. -- Alexander AR
You can rent our vacation log cabin cottages at a discount
from most Arkansas rental cabins.
                  We accept Cash or Checks or Money orders ONLY

A $150 DEPOSIT (if more than 30 days out) will hold your reservation
at our Buffalo River Arkansas Log Cabin Resort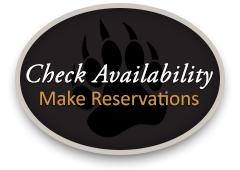 $40.00 additional Cleaning Fee per reservation.
Non-adherence to "check-out policy" could result in added fees.
Turney Homestead
sleeps up to 6

$150
per night for 2 people
Additional guests are $15 per guest, per night.
Conner Homestead
OR
Ferguson Homestead
each sleep up to 12

$175
per night for 2 people
Additional guests are $15 per guest, per night.
The Lake House
with its own private 22 acre lake
sleeps up to 10

$200
per night for 2 people
Additional guests are $15 per guest, per night.

The Farm House

                                 Sleeps up to 8
                                      $200
per night for 2 people
Additional guests are $15 per guest, per night.
The Hideout

                                 Sleeps up to 4
                                      $125
per night for 2 people
Additional guests are $15 per guest, per night.
Children aged 6 and under stay for FREE
Pets Welcome

for $15 per pet, per night. Please tell us about pets when you make your reservation. Please maintain your dog while visiting.
You are welcome to bring your own
ATV four-wheelers and utility vehicles.

4-wheeling on our private ranch roads and trails is FREE
while staying at our buffalo river cabins.
"A perfect spot to get away from it all.
We loved every minute we were here and wish we could have stayed longer.
We definitely will be back!"

Henry and LaVerne S. -- Alma AR
PLEASE JOIN US ON FACEBOOK FOR LAST MINUTE AVAILABILITY
Three Night Minimum Stay (including holidays)
at any of our buffalo river cabins.
(occasionally, there will be a 2 night block available) 
$150 Deposit per Cabin within a week of booking.
"Half Balance Due Payment" is due 30 days prior to reservation.

Deposit is nonrefundable within 30 days of reservation but other payments can be refunded or applied to your next reservation but decrease as the reservation date grows nearer.
30 to 20 days prior to reservation  100% refund
(not counting $150 deposit)

19 to 10 days prior to reservation 75% refund
(not counting $150 deposit)
9 to 7 days prior to reservation 50% refund
(not counting $150 deposit)

6 days prior to reservation -No refund
Our visitors return year after year, for last minute week-end getaways or annual family vacations with lots of careful pre-vacation planning.
CONTACT US for Buffalo River log cabin rental information.
Best Arkansas Log Cabin Rental
"The cabin is most comfortable and relaxing.
A perfect mid-point for our holiday.
What a treat!"

Roger B. -- Stanwell Moor England
CHECK-IN Time is 2 PM
CHECK-OUT Time is 10:30 AM
Each of our log cabins comes with all these features:
Cool, comfortable Air-Conditioning, Cozy Stone Fireplace and central heat, Porch and patios, Dish Network Satellite TV, DVD, WiFi, warm Leather Furniture, Complete Kitchen, Charcoal Grill, all Linens, and Spectacular Scenic Views for your complete lodging comfort.
(All but the Turney Homestead have washer/dryers)
Buffalo River Arkansas Scenery
ALL our cabins come complete with the gorgeous scenery the Ozark Mountains are famous worldwide.
You are free to enjoy our entire 1,200 acre private paradise here in the pristine heart of America's country heritage. Few places in the world can still offer the peace and privacy you'll find here at Bear Creek Log Cabins.
In the tradition of our farming and ranching ancestors, we've named several of our cabin/cottage HOMESTEADS. You'll feel like you've stepped back into a more peaceful time in history when you stay with us. Yet, you'll enjoy all the modern conveniences no matter which HOMESTEAD or cabin you choose.
Click on any picture below

to review that cabin homestead's special features.
When you close each cabin's window, you'll return to this page.
---
Gently nestled among tall trees, The Conner Homestead is featured online as our Buffalo River Vacation Cabin and is always a favorite during hunting season.Sleeps 12. ATV for kids and Four-Wheeler Clubs like the free 4-wheeling trails around this special outdoor lodge.
---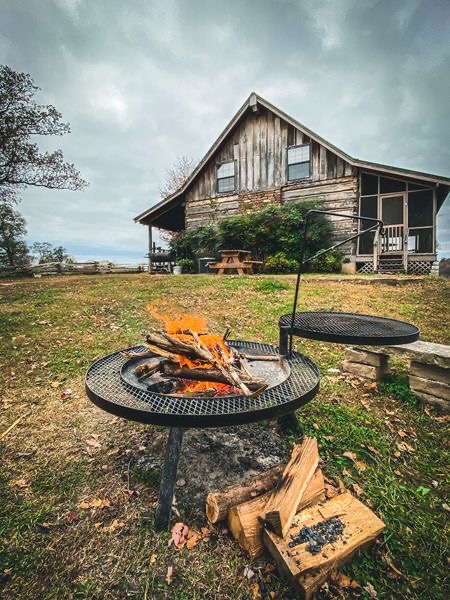 Romantic couples who honeymoon here return to this very private, very cozy cabin to keep their romance alive through the years.
You'll enjoy the nostalgic charm of traditional hand chinking in The Turney Homestead. A stay in this true hand-made Buffalo River Pioneer Cabin lends itself to sharing memories among several generations of family members. Sleeps 6.
---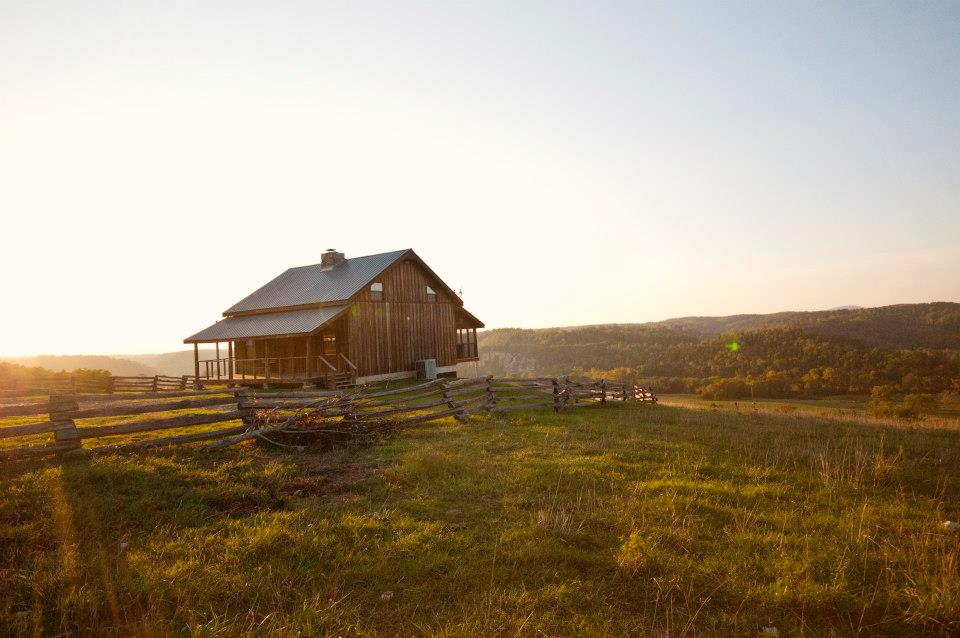 With it's panoramic "wide open spaces" feeling, The Ferguson Homestead offers a sense of all-American freedom that's perfect for parties with friends and family celebrations of all kinds. This Party Cabin easily sleeps 12.
---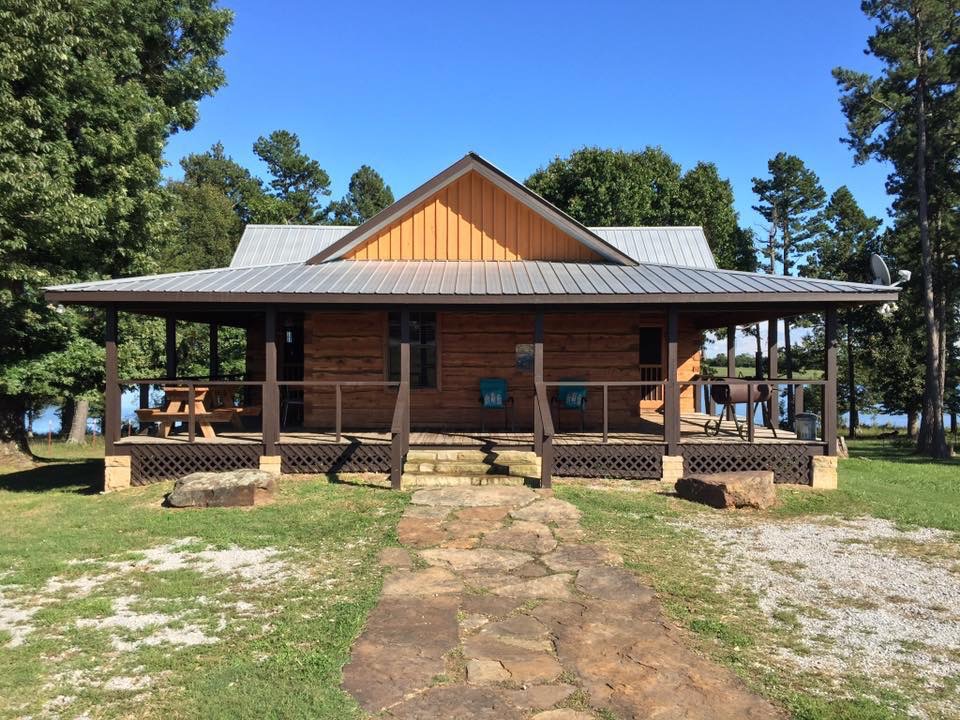 Luxurious lake rental cabin right on the shore of it's own fishing lake, The Lake House, is a favorite for all kinds of reunions. Right in the middle of 365 FENCED and GATED acres, it's great for family reunions, school friend reunions, and military reunions. It's the best facility and best location for informal corporate meetings and church group retreats you'll find in Northwest AR or SW MO. Sleeps 10.
---
The Farm House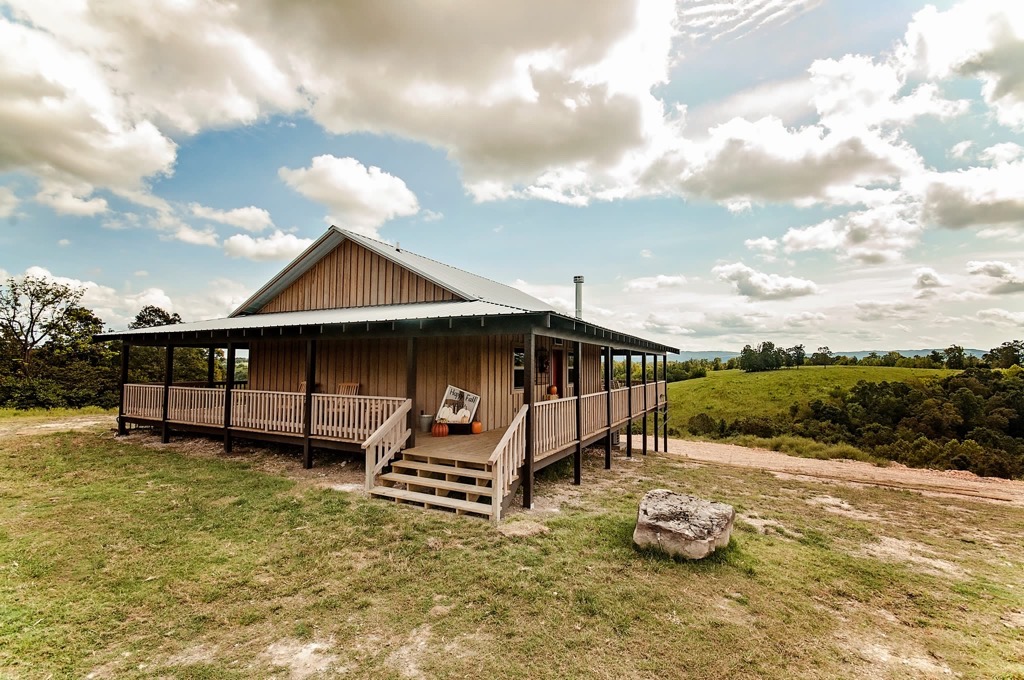 ---
If views are what you are looking for, then the Farm House Cabin is where you need to plan your next vacation in the Ozarks. This spacious and relaxing cabin will accommodate up to 8 guests in 4 spacious private bedrooms all located on our 1200 acre ranch just south of the Buffalo National River. All the conveniences of home including a washer/dryer, Central AC/Heat, rock fireplace, grill, fire ring, Dish TV, Wi-Fi,  and so much more!
The Hideout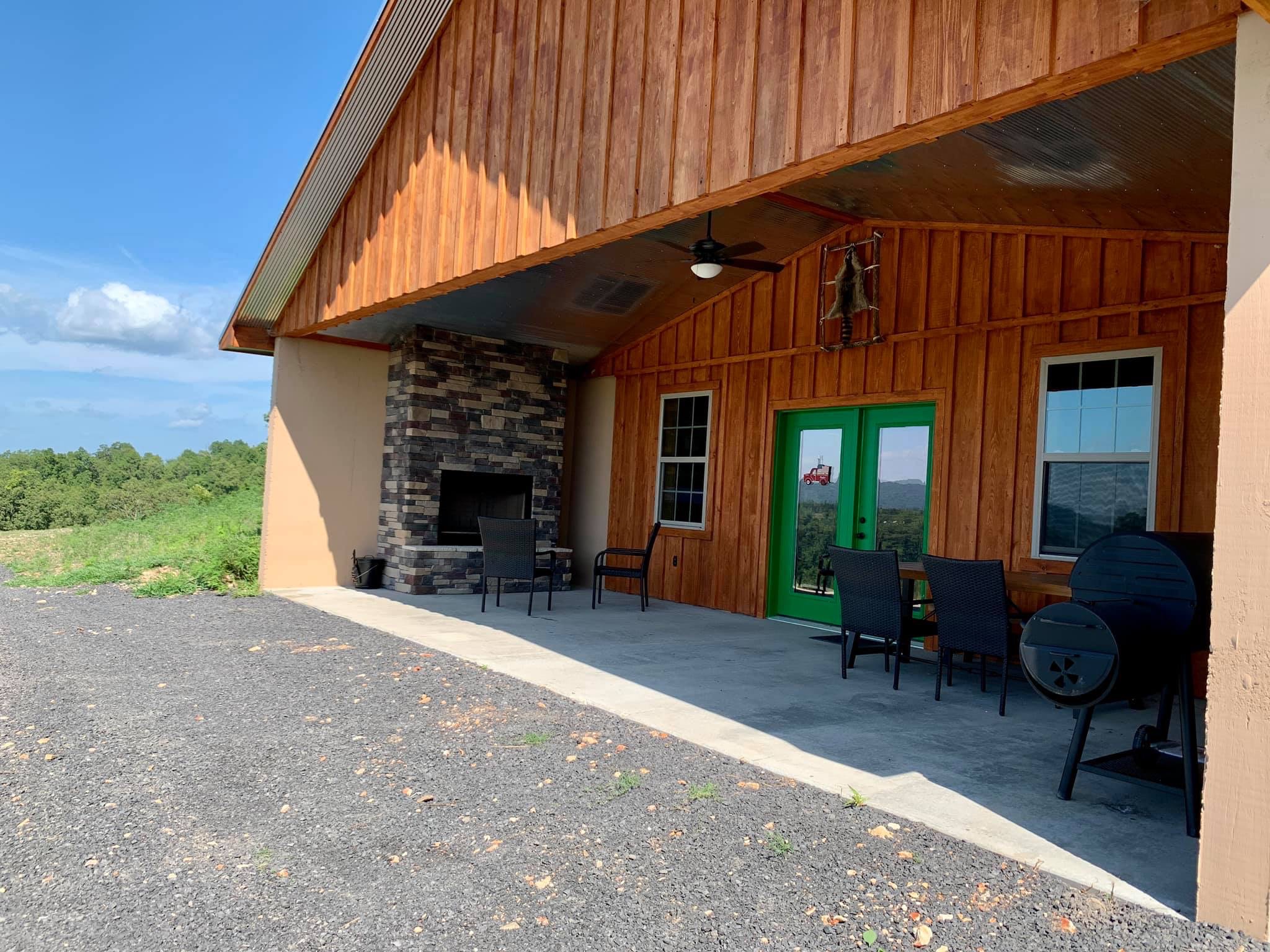 Our newest Bear Creek Cabin is The Hideout Cabin. The cabin sits high atop the 1200 acre ranch complete with sweeping views that are perfect for picturesque sunrises, sunsets, and completely dark night skies. The single story cabin features 2 private rooms; one with a King sized bed and one with a Queen sized bed. Complete kitchen, Flat screen TV, Dish Satellite, WiFi, central AC/Heat, outdoor rock fireplace, washer/dryer. Access to the ATV/bike/hiking trails and Bear Creek.

Buffalo River Ark Lodging
You're welcome to ask for your favorite HOMESTEAD or cabin by name when you call, e-mail, or private message us on our Facebook page to reserve your lodging. We'll do our best to accommodate you, but we suggest you make your reservations early.
Why settle for a Buffalo River Arkansas log cabin hotel or a log cabin motel when you can have the seclusion and privacy of our 1,200 acres to roam while visiting the Buffalo River National Park and nearby Arkansas Game & Fish Wilderness Management Areas?
Come see us at Bear Creek Log Cabins when you're looking for the most comfortable Log Cabin vacation destination in the whole USA.
We're just South of Tyler Bend near the Grinder's Ferry canoe launch.
From Buffalo River Arkansas Log Cabins Rental
HOME
to Buffalo River Log Cabins.net
See our Vacation Rental by Owner details
under ARKANSAS at vrbo.com