Buffalo River Cabins
Floor Plans
The best Buffalo River Cabins in the Ozarks are at Bear Creek Log Cabins on Highway 65 N. Family friendly floor plans offer privacy and comfort.
Semi-Private Sleeping Loft
The Conner Homestead provides two semi-private sleeping areas and a charming half bath up in the loft. Guests can choose twin beds or a full-sized double bed upstairs.


Private Bedroom
in Log Cabin Luxury
A private bedroom with a full double bed is tucked behind the massive fireplace on the cottage main floor.
The main floor boasts a full bathroom, a convenient kitchen, an ample dining area and a comfortable living room.
The oversized leather furniture invites lounging in front of the fire.
Offering lots more places to relax and visit friends and family, the screen porch out back and the covered front porch help bring the beautiful Ozark views right inside with you.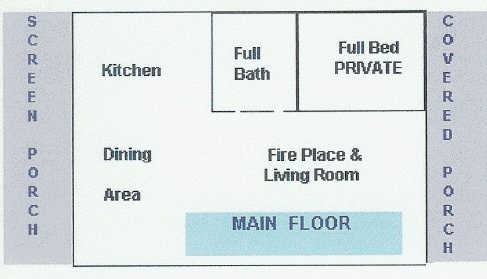 Ozarks Walk-Out Basement
In the basement, there are two big Queen-Size beds in an roomy open area PLUS a private bedroom with a full-sized double bed.
A full-bath bathroom makes clean-up easy after a day of outdoor fun.
The basement also features a game/cards/dining table. This level opens out onto a covered patio. A cozy fire circle invites tales around the campfire and roasting marshmallows or hot-dogs.
RETURN to PHOTOS of Conner Homestead vacation cabin




Conner Homestead Reservations
If you're looking for Buffalo River cabins for your next group meeting, church retreat or family reunion, give us a call.
From Buffalo River Cabins
HOME