Buffalo River
News and Events ARCHIVES
We publish Buffalo River news, Ozark Mountain events, and activities from Branson, MO to Mountain View, AR in our Buffalo River Blog.
View LATEST Buffalo River NEWS and EVENTS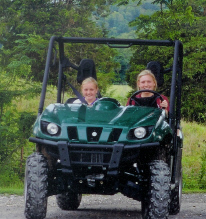 We ARCHIVE Buffalo River News and Events from older articles here so our visitors can access Contact Information for event sponsors. Lots of excellent seasonal activities are available here in the Ozarks every year.

We try to provide resources for everyone planning vacations for families.
---
Animal Tracks: Learning About Wildlife in BNR National Park
Join a Park Ranger at Tyler Bend Boat Launch at 3:30 PM on Friday, July 31. He'll help you learn to recognize lots of animal tracks.
Admission is FREE and the ranger led program is open to everyone of all ages. Children attending can apply to become a Junior Ranger.
River otters, beavers, coyote, skunks, possums, racoons, squirrels, mink, black bear, elk, deer, and bobcats are just some of the wildlife that live along the streambed of the Buffalo River.
Birds get thirsty, too! Many leave their tracks at the river's edge. Great Blue Heron, Kingfisher, several types of owls, wild turkey,and lots of songbirds are among the over 200 bird species that live at least part of each year within the boundaries of the National Park.
Buffalo River Guided Cave Tour
Back O' Beyond Cave is the focus of a National Park Ranger guided tour on Sunday, July 26. All caving equipment will be furnished by the National Park Service.
This is a great opportunity for inexperienced cavers to learn how caves form, see evidence of the animals that live in caves, and enjoy the wonderous underground beauty of the Ozarks.
This 3 hour program begins at 9:00 am in the Tyler Bend Visitor Center Parking Lot.
Anyone can attend. There is NO CHARGE - but you must SIGN UP first at the Visitor Center office.
Call a Park Ranger at Tyler Bend for more information: (870) 439-2502 and lots of buffalo river news concerning the National Park.
Arkansas' Original JUNKFEST
Summer's traditional YARD SALE MADNESS hits Marshall, AR the first week-end in August every year.
This year's activities will start on Friday, July 31. And the big day is Saturday, August 1, 2009.
Every parking lot in Marshall and lots of carports throughout the county will be full of treasures for yard salers and bargain hunters of all ages. Many families and businesses participate in Leslie, Gilbert, St Joe, Harriet, and Big Flat as well.
Don't miss out! Come to Searcy County August 1 and join in the fun.
Monster Small Mouth Bass
Recent rains have stirred up big fish from their lairs along the bottom.
When the water gets a little muddy in the Spring, fishing gets exciting from Woolum to Grinder's Ferry in the middle section of the Buffalo River.
NWAnews.com reports, "the best time to fish the Buffalo (for LARGE smallmouth bass) is when the water is between 7-8 feet at the U.S. 65 bridge."
Bear Creek Log Cabins are just South of this float fishing hot spot where Highway 65 crosses the Buffalo.
To read the whole article and more buffalo river news go to http://www.nwanews.com/adg/Sports/259246/
Vacations for Family Fun Calendars
Adding a vacations calendar links page to our www ar log cabin rentals website provides a quick reservations reference for Buffalo River country visitors.
Now you can access and review the available dates for ALL of our cabins from one central online vacations calendar page.
Permalink -- click for full blog post
Elk Star in Spring Wildlife Watching
Newton County and Searcy County offer the best locations in the Ozarks for viewing both bull elk and cow elk during the Spring and Summer months.
Most of the Rocky Mountain elk herd introduced into Arkansas in the 1980's reside along the south edge of the Buffalo River National Park.
Early morning hours provide the best wild elk viewing and wildlife photography opportunities. That's when you are most likely to see the elk herd grazing peacefully in our fields here at Bear Creek Log Cabins.
Just north of us on Hwy 65N, Tyler Bend Visitor Center has free elk information and maps from the National Park Service. The Gene Rush Wildlife Management Area, home to the greatest population of elk, is also close by. Elk watching makes Northwest AR and Buffalo River news every spring.
Best-ARK-Destinations
Six of the top AR attractions chosen by Arkansas Business magazine are within a short scenic drive of our cabins!
Buffalo National River offers 135 miles of canoeing and hiking, including 3 wilderness areas.
Eureka Springs, Ozark Mountains own Victorian-era village provides shopping and entertainment.
Greers Ferry Lake, really two lakes covering 40,500 acres with just over 340 miles of shoreline for fishing, swimming and waterski fun.
Mountain View, home to Ozark Folk Center for crafts and music, Blanchard Springs Caverns -Caves, and Sylamore Creek Trail for jogging and mountain biking.
Mystic Caverns for more caving and spelunking.
Scenic Hwy 7 for motorcycling and car rides and day trips through beautiful Ozarks scenery.
Buffalo River Documentary AVAILABLE
AETN will showcase "The Buffalo Flows" in March 2009.
This 1 hour documentary by Emmy award-winning filmmaker Larry Foley premiered at Hot Springs Documentary Film Festival in October 2008.
High-definition video footage tells the story of "The Battle for the Buffalo". No dams obstruct 148 miles of pristine river magic.
Call University of Arkansas Press (1-800-626-0090) for a copy of the DVD.
Watch for it again on public television's "The National Parks: America's Best Idea" later this year.
Ozark Mountain and Buffalo River News from Early 2009
Ice Storm Clean-Up
for Buffalo National River
Recent ice storm damage requires extra caution for visitors to the Buffalo National River Park now.
While many areas have been closed or have restricted access due to safety concerns, Tyler Bend Visitor Center off Highway 65 is OPEN.
Tyler Bend is just north of Bear Creek Log Cabins.
Only primitive camping is currently available at open campgrounds. There are no toilets, water, or electricity available at any sites within the park.
However, all 3 of our cabins along Bear Creek, a tributary to the BNR, have electricity restored and are OPEN.
Park repair and clean-up efforts continue.
2009 Spring Turkey Season Dates Announced
Turkey hunting provides some of the most exciting outdoor action in North West Arkansas and South East Missouri.
A special Youth Turkey Hunt starts the season on April 4 - 5 in Hunting Zones 1 and 2 - where we are located, near Buffalo National River Park.
April 11 - May 1 are the dates for the general turkey hunting season.
Now is a great time to book a cabin. Our hunting cabins always fill up early for hunts in the Ozark National Forest.
Sylamore WMA near Blanchard Springs and Mountain View is the closest available WMA to Bear Creek Log Cabins.
Ice Carving in Branson MO
Famous Titanic Museum in Branson Missouri is hosting amazing Ice Carving Competition on Saturday January 17, 2009.
This is the Titanic's Third Annual Competiton and Ice Carvers from EVERYWHERE will be there to compete.
Branson is just 1 hour and 15 minutes North of Bear Creek Log Cabins. When you stay with us on Bear Creek instead of in one of the condos in Branson you will save money and probably have alot more outdoor fun.
We'll make sure you have good directions for the short scenic drive to Branson so you don't miss this exciting FREE event.
Last year's Ice Carving show drew over 4,500 visitors. All the activities this year will take place at the ship's bow.
Date: 01/17/2009 Time: 09:00 am - 03:00 pm
Blanchard Springs Cavern Winter Tours
Blanchard Springs Caverns is a popular day trip from Bear Creek Log Cabins. The caves are deep in the Ozark National Forest, 15 miles north of Mountain View.
Dripstone National Recreation Trail tours are available year-round. The temperatures in the cave remain a steady 58 degrees regardless of the weather.
January and February are prime times for families with small children, seniors, and folks in wheelchairs because the tours are much less crowded than during the summer.
With a tour guide, you'll ride an elevator two hundred feet into the earth and find yourself in the gigantic Cathedral Room.
This scenic tour covers less than one half mile. It is an easy walk. The trail accomodates strollers and is accessible to wheelchairs with strong assistance. Guardrails and two seating areas are provided.
Bats are rare in this portion of the cave, but you may be able to see tiny cave creatures such as salamanders and crickets.
For more information or tour reservations contact US Forest Service toll free 1-888-757-2246 or e-mail r8.ozark.bsc@fs.fed.us
Used Christmas Trees Wanted
for Arkansas Fish Habitat
Arkansas Game and Fish Commission is asking outdoors enthusiasts and anglers to donate Christmas trees this year when they take their holiday decorations down.
AGFC community fisheries biologist Clifton Jackson says that studies have shown fish utilize underwater structure for cover. "These trees are some of the best natural forms of underwater structure."
"Crappie, bass, bluegills and other fish will often use the tress to hide in and around," Jackson said.
Used Christmas trees provide cheap, but quality underwater structures. They are easy to place in ponds and lakes, and they last for several years.
The closest drop-off locations to Bear Creek Log Cabins are:
Around Greers Ferry Lake - Sandy Beach (Heber Springs, Devils Fork Recreation Area, and Choctow Rec Area (Choctaw-Clinton).
Lake Conway - Lawrence Landing Access.
This is an easy way for kids and families to help improve fishing in Arkansas by providing high quality shelter for game fish populations.
You can find more information by visiting www.agfc.com
BACK to our Buffalo River News Blog
FORWARD to Vacation ATTRACTIONS info
From Buffalo River News Archives
HOME
to BuffaloRiverLogCabins.net