Buffalo River Log Cabins
Buffalo River log cabin rentals in beautiful Ozark Mountain valley.
Best Buffalo River
Vacation Rental Cabins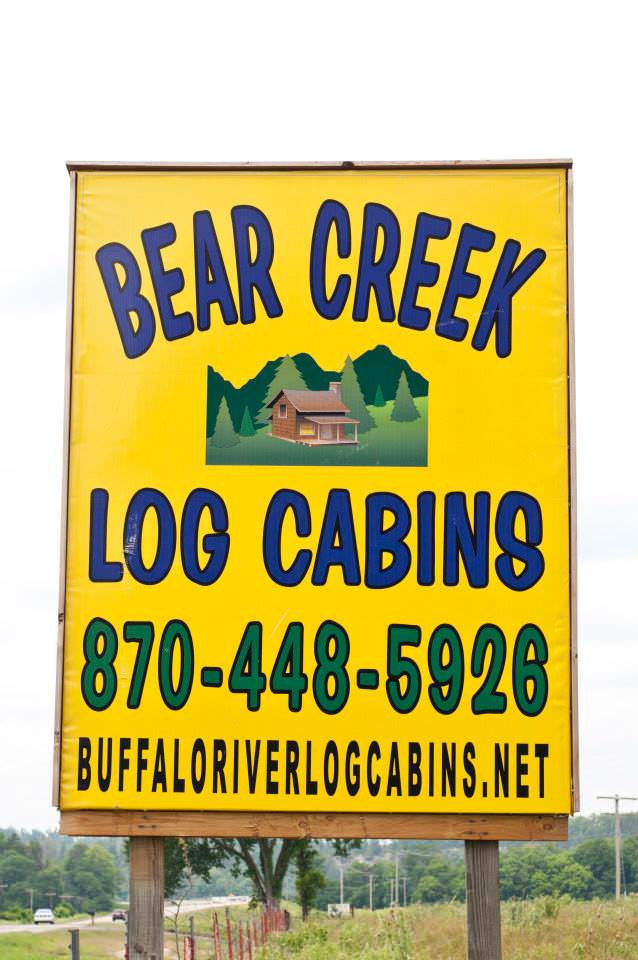 Our VERY private vacation rental cabins offer a perfect family reunion location. Hunting clubs and large groups are welcome.
Each of our log cabins is unique, with completely different settings and decor. All cottages feature covered front porches perfect for entertaining.
We designed each of our vacation rental cabins to be roomy enough for a church retreat or a hiking club meeting yet cozy and private enough for romantic couples on a honeymoon or anniversary.


Buffalo River Reunion Cabin
Ferguson Homestead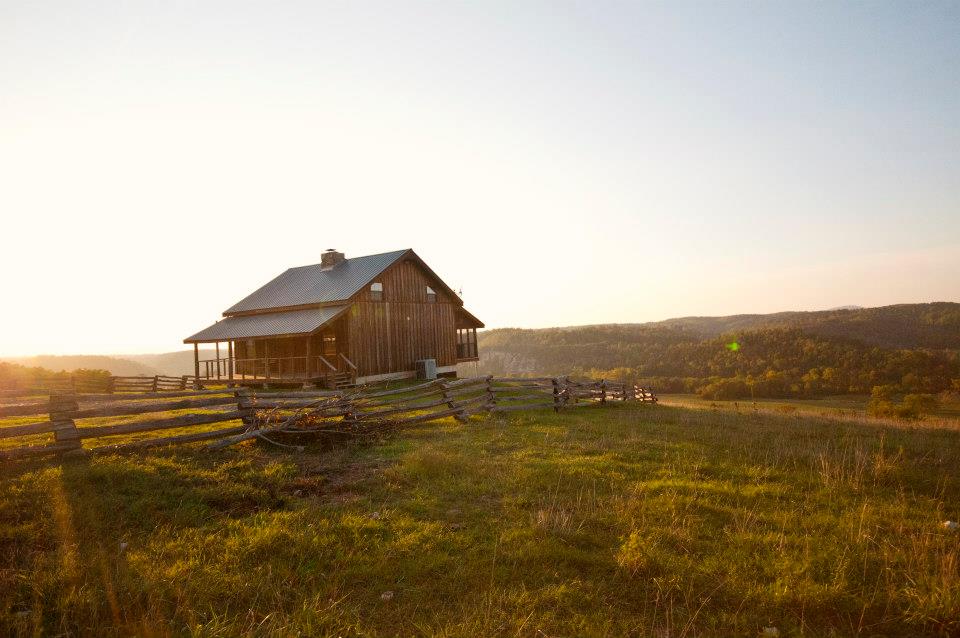 View the best Ozarks Mountain cabin rental in Arkansas
for a family reunion vacation.
Designed for parties and reunions and all kinds of fun, our Ferguson Homestead sleeps up to 12. Named for Libby's own family. They've lived in this little corner of Buffalo River country heaven called Bear Creek Valley for three generations since her grandparents settled here in the 1860's.
"What a wonderful place for our little family retreat. Pleasant surprises throughout the cabin and grounds..."

Wanda L. -- El Dorado AR


True Pioneer Craftsmanship
Turney Homestead
Take a peak inside this cozy
family log cabin rental here.
Our original Buffalo River family log cabin sleeps six. The beautiful logs were hand-hewn in 1884. We call it the Turney Homestead in honor of the family who originally shaped the logs by hand in nearby Snowball, Arkansas.
"The cabin has so much character and charm. . .Your attention to detail is apparent. . . The decor is so cozy."

Tim & Susan Z. -- Vilonia AR


Buffalo River Arkansas
Vacation Cabin
Conner Homestead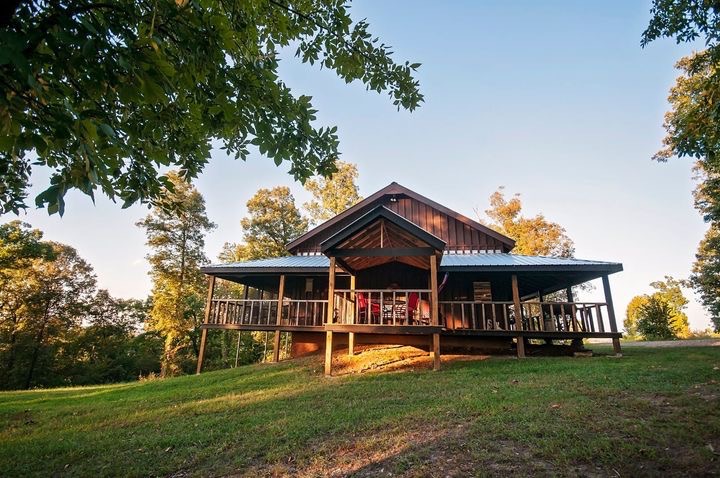 Look inside this favorite Buffalo River vacation cabin rental now.
Outdoor recreation fans love our Conner Homestead. Nestled in green Ozark forest trees, it sleeps up to 12. This roomy cabin is named for Pat's family who originally settled along Arkansas' near-by White River, famous for canoeing and fishing adventures.
"We could have looked the world over and never have found a better place to stay."

Carl & Betty B. Phoenix AZ
Convenient Northwest Arkansas Accomodations
We have six cabins that will accommodate groups up to 52 guests with plenty of outdoor activities to keep all ages busy. We specialize in private parties, family reunions, and weddings. We also welcome business professionals workshops and spiritual retreats. We have added the beautiful Bear Creek Pavilion complete with                               electricity, water, tables and chairs. We also offer RV sites.
Check our Low Rates for your relaxing Arkansas log cabin vacation.
Each of our vacation rental cabins comes with all these features: Cozy Stone Fireplace, big porches and decks, Dish Network Satellite TV, DVD players, WiFi,   Complete Kitchen, all Linens, Charcoal Grill, over 1,200 acres to roam packed with trials and farm roads, beautiful Bear Creek, and WONDERFUL VIEWS for your complete lodging comfort.
Contact Us for Buffalo River cabin rental reservations now.
---
The Lake House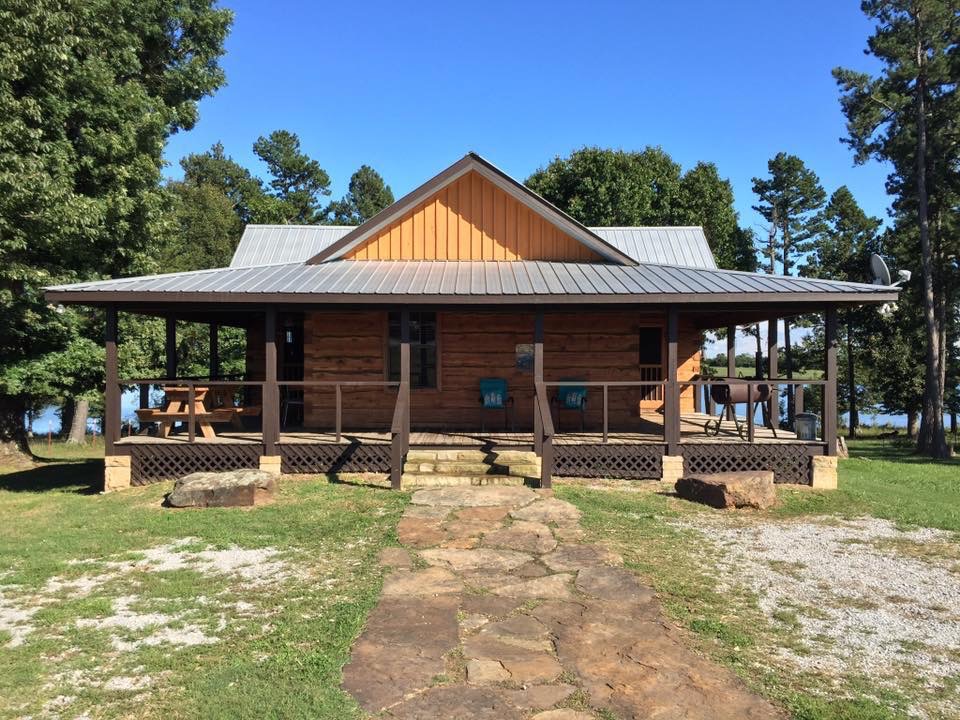 Near-by LAKE HOUSE CABIN
One cabin sits on secluded 365 acre outdoor paradise with a 22 acre private stocked lake. Beautiful lake rental cabin provides lake lodging at it's finest.
---
---
From Buffalo River Vacation Rental Cabins
HOME
to Buffalo River Log Cabins