Fun Family Vacation Ideas
Family vacation ideas and destinations are what our Buffalo River National Park BLOG is all about. We archive news about events and attractions our guests love on their Arkansas vacations.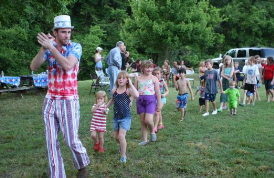 Besides LOTS OF ROOM

to run around and
enjoy outdoor recreation
right here on the ranch,

our guests enjoy DAY-TRIPS to area happenings year round.
Family reunion activities and great family vacation ideas are easy to find here in Buffalo National River country

Family Vacation Ideas and Events
---
Relaxing Massage Right in Your Own Cozy Log Cabin - Better Than Any Day Spa
Relaxing Massage: NOW you can have a relaxing massage, deep tissue massages, or therapeutic massages when you stay in any of our cabins.
Permalink -- click for full blog post "Relaxing Massage Right in Your Own Cozy Log Cabin - Better Than Any Day Spa"
Buffalo River: Best in the Ozarks
Springfield News-Leader staff recently named a float trip down the Buffalo River as their favorite summer outdoor activity.
Other favorite rivers, lakes and parks in the region include Roaring River State Park, as well as the Current River east of Springfield Missouri and Table Rock Lake near the AR/MO border.
Dogwood Canyon,south of Branson MO, made the list of favorites - along with Lake of the Ozarks.
But the Buffalo National River is their Number 1 GREAT Vacation Getaway Destination, especially for outdoor photography.
We have to agree! You just can't beat canoeing or rafting down the Bufflo for taking great nature photographs.
You can read the whole article at http://www.news-leader.com/article/20100711/COLUMNISTS28/7110312/ Staff+love+of+Ozarks+apparent+in+list+of+favorite+placesm
Ozark National Forest Off-Road Riding Rules
Off Highway Vehicles (OHVs) are allowed on designated trails and routes within the Ozark National Forest, the St. Francis National Forest and the Ouachita National Forest.
Currently there are ONLY four trail systems specifically designed to accomodate OHVs and ATVs in the Ozark Forrest.
Roads within the Ozark National Forest closed by earthen mounds, gates, signs, or other reasonable barriers are CLOSED to four wheeling traffic.
According to state law, OHVs are generally NOT allowed on county or state roads.
For information on 4-wheeling within the National Forest boundaries, visit http://www.aokforests.com/ and check out the official Off-Highway Vehicle Fact Sheet.
Our guests don't ever have to worry about finding a place to ride atv trails or enjoy their OHVs. Anyone staying at our cabins can 4 wheel all they want to on our PRIVATE trails and roads.
Permalink -- click for full blog post "Kid Friendly ATV Trail Riding in Private Paradise"
Buffalo National River Featured on ABC News
Buffalo National River is becoming one of the most popular National Parks in America. On August 2, 2010 ABCNews featured this area on its Weekend Window program. We agree, Buffalo River is a great vacation spot to visit in the USA.
You can view the buffalo river video here.
Our rental cabins are just South of Grinders Ferry canoe launch - a great place to swim, fish, or start your own float trip.
Buffalo River Elk Festival
Celebrate the Return of the Elk at the 13th Annual Buffalo River Elk Festival, June 25 - 26, 2010
ONE OF THE PREMIER CRAFT FAIRS & OUTDOOR SPORTING EVENTS IN ARKANSAS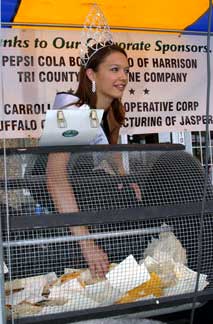 Drawing for 2010 Elk Hunt Permit is always a highpoint of the wild Elk Festival. Other features include:
OVER 100 EXHIBITORS
ARTS & CRAFTS SHOW & DEMONSTRATIONS
SPORTS SHOW
DUTCH OVEN COOK-OFF
MUSIC
GREAT GROUPS & STREET DANCE
WILDLIFE EXHIBITORS
KIDS FISHING DERBY
GREAT FOOD
LOTS OF ACTIVITIES AND FUN FOR ALL !!
For more information contact
Newton County Chamber of Commerce
1-870-446-2693 or 1-870-446-2455
Email chamber@ritternet.com
The Buffalo River Elk Festival is sponsored by the Jasper/Newton County Chamber of Commerce with assistance from the Arkansas Game & Fish Commission and the Rocky Mountain Elk Foundation.
Nostalgic Drive-In Movie
KENDA DRIVE IN Movie Theatre, just down the road from our vacation cabins, offers Summer Fun for families and groups of friends. Movies under the stars are one of the best old-fashioned family vacation ideas. It's just hard to find Drive-Ins any more. We're lucky to have one just up the road.
Showtimes:
Friday-Tuesday 9:00 pm



Tickets: Adults (12 & up) $4
Children (6-11) Free w/parents, $2 otherwise
Children (under 6) Free
Phone(870)-448-5400 for more information
Silver Dollar City Kids Fest
Celebrate 50th Anniversary of Silver Dollar City Theme Park at National KIDS FEST this summer.
Besides all the rides, crafts demonstrations, and family-friendly restaurants, Silver Dollar City offers lots of special SHOWS and EVENTS from June 5 - August 8
A Magic Show, an amazing performance of tricks by Stunt Dogs, and a Birthday Cake Eating Contest are just some of the highlights sure to entertain children of all ages.
Silver Dollar City and Branson, MO are just a pleasant scenic drive from our vacation cabins and make a great day trip for grandparents and family groups, especially during National Kids Fest.
Silver Dollar City attracts folks from all over America looking for kid-friendly family vacation ideas.
Buffalo National River Asks for Comments
National Park Service (NPS) is proposing a Facilities Improvement project to upgrade access to the river at Rush and Hasty Landings, provide parking at Spring Creek Trailhead, and improve the Lost Valley Trail.
Work on an Environmental Assessment for this project includes taking public input regarding any posssible significant impacts to the natural or human environment.
Anyone using the Ozark Highlands Trail, the canoe launch areas at Rush or Hasty, and the Eden Falls Cave area near Lost Valley that might have helpful input or concerns regarding these plans has until June 23, 2010 to comment. Links to full information are available at http://parkplanning.nps.gov/buff
BACK to Buffalo River Blog for current Ozark Festivals and Fairs
FORWARD to Vacation Attractions info
From Family Vacation Ideas
HOME
to Buffalo River Log Cabins Entry Page