Fun family vacations are what our cabins are designed around. We archive kid-friendly events and attractions on this page to help our guests plan activities in Branson, MO and Buffalo National River country. It's hard to believe our cabins are so private and secluded - yet close to EVERYTHING!

RETURN to our BUFFALO RIVER BLOG
for the most up to the minute area events
Crazy Mountain View AR Out House Race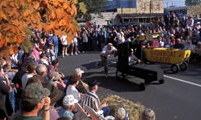 28th ANNUAL ARKANSAS BEAN FEST AND ARKANSAS CHAMPIONSHIP OUTHOUSE RACE
Thursday, Friday and Saturday, Oct. 28-30
Now in its 28th year, this festival is one of the most exciting and outrageous events in the Ozark Mountains.
Live music on the courthouse square includes a mix of folk, bluegrass, Cajun and gospel styles. Plus, the 4th Annual "Beanie Weenie Dog Show" features all kinds of dogs competing in all kinds of contests.
Don't miss the Parade of Outhouses,starting around 1 p.m. and followed by hilarious hand crafted outhouse races to determine the fastest privy in the Ozarks. Mt View's annual Outhouse Race is a fun family vacation favorite.
Our guests always enjoy the pinto beans and prize winning cornbread Bean Fest features every year.
Branson Ducks Salute Veterans
Now thru October 31 enjoy this annual Salute to Veterans on Branson Ride The Ducks Tour!
Ride through the entertainment district of Branson and out into the Ozarks!
Splash into Table Rock Lake for a fun cruise.
You can even drive the duck,
crafted from the WWII DUKW
Quack along with the Captain to Patriotic Songs
Our guests and their children really enjoy riding the ducks on their fun family vacations. The Duck Dock is just an hour and a half drive from our cabins.
Fun Family Vacation Holidays
Air Show and Music Festival
Saturday October 3, 2010 expect lots of fun for the entire family in Marshall, AR .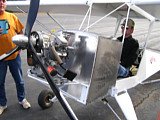 Searcy County Airport
Flying Jam Music Festival
Bring your lawnchairs and enjoy the day
Admission is FREE
Parking is FREE

This year, the Annual Fly-In features a mini air show with the famous Powerchutes.

Bluegrass, Country, Gospel, and Patriotic Music will fill the airport hangar all day. Outside, you will find food tents, crafts, and plenty of interesting displays. Call Jack Treat at 870-448-4488 for more information.
BNR River Clean-Up
Saturday, September 25, 2010 BNR Partners is sponsoring a Buffalo River Clean-Up Event.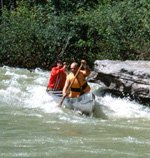 Trash and tire clean up efforts will focus on two sections of the Lower River: from Maumee to Highway 14 and from Hwy 14 to Rush
Shuttles and canoes will be provided for the first 60 volunteers. To sign up for a canoe or shuttle contact Laura Timby at (870) 439-2968 or email at ldtimby@ritternet.com by Sept 22nd.
All participants should have lunch/snacks and water, shoes for wading, work gloves, and any tools they feel like bringing to help with tire/trash removal (shovel, grabber, wire cutter, grabber, pick, rope) Mesh and trash bags will be provided when volunteers meet at 8:30 AM near Buffalo Point National Park Campground.
Artist Studio Tours in NW AR
Autumn is a great time to drive through the scenic Ozark Mountains and visit original artists in their homes and studios. Our cabins are right in the middle of TWO major annual art tours September 17 - 19, 2010!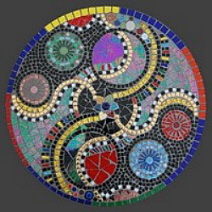 4th Annual Ozark Mountain Artists Studio Tour

includes 20 artists in Parthenon, Deer, Ponca, Jasper, Pelsor, Marble Falls, Mt. Judea, Erbie - surrounded by the scenery that's made Newton County famous.

On this tour you can view and purchase fine painting, ceramics, fabric arts, woodworking, woodcuts, Pen and Ink Drawings, silver jewelry, photography, mosaics, and rustic furniture. Visit www.ozarkmountainartists.com for more information.

Off the Beaten Path Studio Tour

showcases creative artists in and around Mountain View, Calico Rock, Pineville, Leslie and Fox, Arkansas.

Fiber arts and tapestry, sculpture, mosaic art, leather artistry, knives, pottery, wooden tops and gyroscopes, hand made brooms, jewelry, stained glass, painting, hand-made paper, folk art, old world Santas, photography, blacksmiths, flame worked glass, and candles are featured. You'll find more information and gorgeous photographs of featured artwork at www.offthebeatenpathstudiotour.com

This is the best time to stay at our cabins, just south of the Buffalo National River National Park, for enjoying Ozark artists AND Ozarks Fall scenic drives on fun family vacation day-trips.
Arkansas Vacation Events
Arkansas Hot Air Balloon Fest
Friday, September 10, to Sunday, September 12 Harrison, AR Regional Chamber of Commerce will host the 15th Annual Arkansas Hot Air Balloon State Championship in the magnificent Ozark Mountains.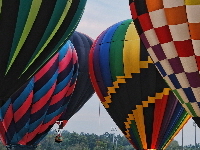 The festival will kick off on Friday evening with more than 20 balloons tethered to the ground for the exciting balloon glow.
The event is FREE and will continue through Sunday with several balloon races for all to enjoy. The first balloonist to grab the ring off the pole wins the $10,000 PRIZE!
Tethered balloon rides are offered for a $5 a person.
Contact the Events Coordinator at 870.741.2659 or visit http://arkansasballoonfest.com/schedule-of-events.html for more information. Harrison is only 30 miles North of our fun family vacation rental cabins.
Bass Pro Outdoor Fitness Festival
Walk, run, bike, hike, or kayak your way to better fitness! The Bass Pro Outdoor Fitness Festival starts September 10th!
Friday September 10- Sunday September 12, 2010
Outdoor Days at Lake Springfield
Pre 1840s Mountain Man Rendezvous
Canoe/Kayak Races
Outdoor Skills Villages
Bass Pro Tent Village
Off-Road Activities
Boat Rides and MORE Kid-Friendly FUN
Lake Springfield is located at 2312 S. Kissick Road in Springfield, MO.
Admission is Free, but advanced registration is required. For more information or to register, e-mail: mjohnson@spring fieldmo.gov
Our guests love visiting Bass Pro Shop when they stay at our cabins. It's just a short scenic drive up Highway 65. But our cabin rental prices are a real bargain compared to Branson lodging!
Explore more of our Fun Family Vacation Ideas Archives
From Fun Family Vacation Events
HOME
for More Buffalo River Log Cabin Ideas