Mountains + River
Rental Cabins
Our Buffalo River rental cabins stay busy ALL year long, especially on holiday week-ends. You don't want to miss staying so close to the most famous scenic riverway and best canoeing river in the Mid-South USA.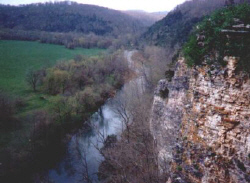 Don't worry!
Even if the date you choose is already booked,
we will notify you
as soon as a cabin becomes available due to unexpected cancelation.
You don't want to miss staying so close to FIRST of America's national rivers and the BEST canoeing river in AR, MO, OK, TX, or LA.

Fishing River Cabin Lodging
If you like creek and river fly fishing, our fishing cabins will be a dream come true for you. So, be sure to fill in this simple form to be notified of a vacancy if your preferred date is already reserved or better yet, just give us a call and let us know you would like to be notified.
Review PHOTOS of our river/mountain cabins
Review RATES for all our cabins
Review a Reservations Calendar for each cabin
CONTACT US via our Reservations Form if you'd like to leave a longer message.
Travelers often make reservations with us a year in advance to be sure they can spend their holidays with us.
However, as we all know - plans often have to be changed at the last minute.
We use this simple form or a quick phone call to our office to help more folks enjoy their vacation or week-end getaway right here!

We want you to be happy and enjoy your trip to the Buffalo River Nation Park. We will work with you in every way we can to find a date that fits your vacation or travel schedule. Come relax in this beautiful, peaceful fishing spot our family calls home.
From Buffalo River Rental Waiting List
HOME
to Buffalo River Log Cabins