Total Vacation for Rent
Lake Lodging Package
Are you looking for a TOTAL vacation-for-rent-package? This secluded hiking, fishing, outdoor mountain lake rental has it ALL.



Best Outdoor Vacation Packages in MO or AR
Start with a pristine private lake, and a secluded outdoor mount-type hiking park in North West Arkansas. Make sure it's just a scenic drive from Branson and Silver Dollar City, Missouri.
Zoom in (below) on a cottage vacation rental cabin hidden away in a mini-forest of graceful old trees:

Click Here to view lake rental cabin up close
ATV 4Wheelers Welcome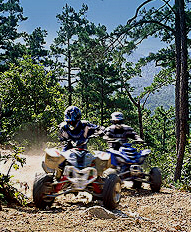 OVER 300 ACRES

You'll have all to yourself
because there is only one vacation
great cabin here.
Bring your own atv or utility ohv
and go four wheeling all day!
There's plenty of room here
for your whole group
to go 4wheeling at once.
This is one of the most private places to ride atvs anywhere in the AR or MO Ozarks.
Hiking Mtn Vacation

Huge scenic bluffs invite you to explore this special corner of the famous Buffalo River country. One of a kind vacation-for-rent outdoor lake beats the socks off the crowded Table Lake area around the Branson hills and Branson lakes.
Watch Birds and Wildlife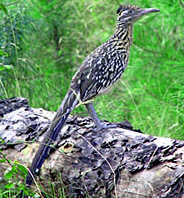 In every direction around the Lake House rental cabin, secluded wilderness sights and sounds await you.
Birdwatching and wildlife viewing are natural highlights of your family vacation or group retreat here. Early morning or late evening walks around the lakeshore bring lots of opportunities for special memories.
If you like hiking Arkansas forests and outdoor ridge hikes, you'll love waking up here.
Hike to Ancient Rock Drawings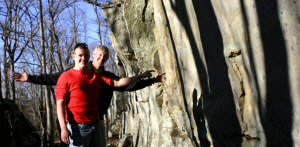 Not far from the Lake House vacation rental cabin, you'll find ancient rock drawings and rock painting left here by Native American Indians.
Ancient Native Americans inhabited this area hundreds of years ago. Every Spring, after winter rains, folks find lots of arrowheads and other really old Indian artifacts all around SnowBall and Marshall Arkansas.
Your family can catch the spirit of the ancient Ozark bluff dwellers' history just a few steps away from your cabin and it's beautiful fishing lake.
Review pictures of the bass fishing lake
Review pictures of the Lake House lake rental
Our thanks to the Arkansas Tourism Department for atv kids photo and to Arkansas Game & Fish Commission for AR bird photo.
From Vacation-for-Rent Travel Package
HOME
to Buffalo River Log Cabins