AR - MO Lake Cabin
Floor Plan
Secluded lake cabin rental sits right on the lakeshore. Designed for indoor/outdoor comfort, this private lake house draws anglers and outdoors enthusiasts from all over North West Arkansas and South West Missouri.
Wrap - Around Porches
Surround Lake Cabin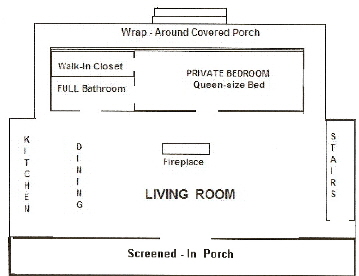 Cozy Cabin Interior
Step right up on the shady front porch and you can start to relax.
The mainfloor centers around a unique, handcrafted stone fireplace.
Kitchen and dining area provide cozy meals for romantic couples. Still, there's plenty of room for family dining or group refreshments.
You'll find a Full Bath, convenient to the ample Living Room and Kitchen/Dining Area.
The PRIVATE Bedroom boasts a luxurious Queen-size bed and it's own walk-in Closet.
The full length Screened-In Porch looks out on the lovely bass-fishing lake.
Full Walk-Out Basement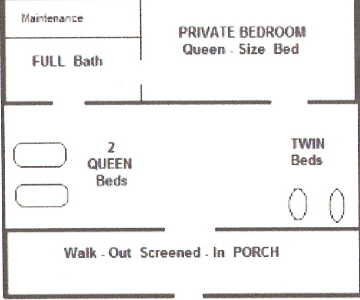 Roomy Lake Cabin Basement
Downstairs there is ANOTHER Private Bedroom with a Queen-sized bed and it's own closet.
In the main room, you'll find 2 QUEEN beds, lots of space for group games and activities, and 2 TWIN beds.
Step out through the double French doors and enjoy the full length Screen porch that opens on a lovely grove of trees lining the lake shore below the cabin.
BACK to Lake Rental Page to CONTACT US NOW for Reservations
From Lake Cabin Floor Plan
HOME
to Buffalo River Log Cabins